For 37 years, Cal Poly's Community Service Awards have been presented to students, faculty, staff, and community partner agencies for their contributions to the quality of life in San Luis Obispo and their spirit of civic engagement.
Awards are given to highlight specific achievements in service. The awards are selected on the basis of the written nomination by a panel of faculty, staff and students. President Armstrong personally recognizes award recipients for their efforts. For a list of previous award recipients please click here. 
---
Congratulations to our 2023 CP Community Service Award Winners!
Jude Weakley - Significant Contribution, Student
Hack4Impact - Significant Contribution, Student Organization
Courtney Kienow - Significant Contribution, Staff
Kim Andridge - Significant Contribution, Faculty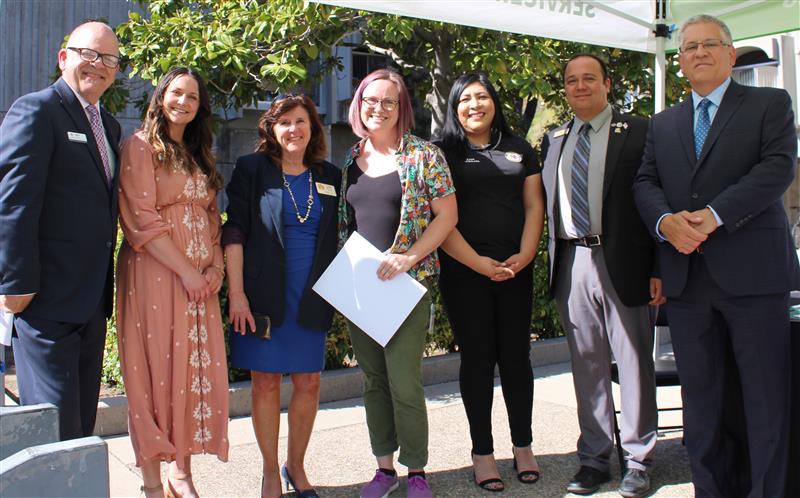 Elizabeth Wegley & Anthony Fernandez - Service Learning, Student Team
Sigma Kappa - Greek Community Contribution
Katie Lynch - AmeriCorps Member of the Year
Vitalant - Outstanding Community Partner
SLO Parks & Rec. Youth Services & Cal Poly's EIM Department - Outstanding Campus and Community Collaboration
---
Award Categories
| | |
| --- | --- |
| Nominee Type | Description |
| Student | A student who has exemplified exceptional service in the community of SLO |
| Student Team | Two or more students who have collaborated and exemplified exceptional service in the community of SLO |
| Student Organization | A recognized student organization who has collaborated and exemplified exceptional service in the community of SLO |
| Staff | A staff member who has exemplified exceptional service in the community of SLO |
| Staff Team | Two or more staff members who have exemplified exceptional service in the community of SLO |
| Faculty  | A faculty member who has exemplified exceptional service in SLO or designed an experience for students that was unique and had a positive impact in the SLO community |
| Faculty Team | Two or more faculty members who have collaborated and exemplified exceptional service in SLO or designed an experience for students that was unique and had a positive impact in the SLO community |
| Community Partner | A non-profit agency that has collaborated with Cal Poly across several different programs or years |
| AmeriCorps Member | An AmeriCorps Fellow who is dedicating a year or more to helping non-profits and campus departments build their volunteer infrastructure |
|   |   |
| Award Category | Description |
| Service Learning | A service component tied to a course credit or requirement that addresses community need |
| Significant Contribution | A nominee who has done stellar work with the community, independent of any requirement (course or job) and based on their own motivation |
| Greek Community Contribution | A Greek Organization who has exemplified exceptional service in the community of SLO |
| Outstanding Campus-Community Collaboration | Dual award given to a community partner and a Cal Poly program or department who have collaborated to offer a unique experience for students and the community. For example: CP Modern Language Dept. and Pacheco Elementary, SLO food bank and the CP food pantry |
| Outstanding Community Partner | A non-profit or governmental agency who has formed a fruitful partnership with Cal Poly and provided exceptional service opportunities for the Cal Poly community |
| AmeriCorps Member of the Year | An AmeriCorps Fellow who has exemplified exceptional service during their term |
---
Related Content